SUMMER CHESS COACHING CAMP-2023
JMJ E.M. SCHOOL SUMMER CHESS COACHING CAMP-2023
V King's chess academy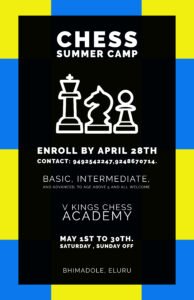 Summer Coaching camp – 2023.
Players (Over JMJ E.M. School classroom)
Trainer: Smt. S. SYAMALA.
Instructor
V KING'S CHESS ACADEMY SENIOR TRAINER's
Schedule:
1.00 hr Class from 01-05-2023 to 30-05-2023
Number of Sessions: 20
(Daily one session & practice)
Session Schedule: 20 days.
Monday to Friday, Saturday & Sunday Off
10.30 am to 10.45 am: lesson explained by the academy Instructor about BASICS.
10.50 am to 11.30 am (practice Class)
Eligibility:
( VKCAcademy) Player Should get registered by vkcacademy.com  once rejected will not be considered.
Course Fee:
Rs. 1,000/- for the entire period.
Free for VKCAcademy players.
Batch strength: Maximum unlimited. Open first cum first.
practice Trainers: Shri P. Kiran Kumar, Smt, S. Syamala
REGISTRATION LINK: https://vkcacademy.com
FOR MORE DETAILS CONTACT:
SRI P. Kiran Kumar, Director, VKCAcademy. ( 9492542247)
For payment-related issues contact Smt. S.Syamala,  VKCA, (9248670714)
P. Kiran Kumar,
Director, VKCAcademy.